| | |
| --- | --- |
| Posted on June 16, 2016 at 8:35 PM | |
Chiara Zambrano, ABS-CBN News
Posted at Jun 16 2016 10:10 PM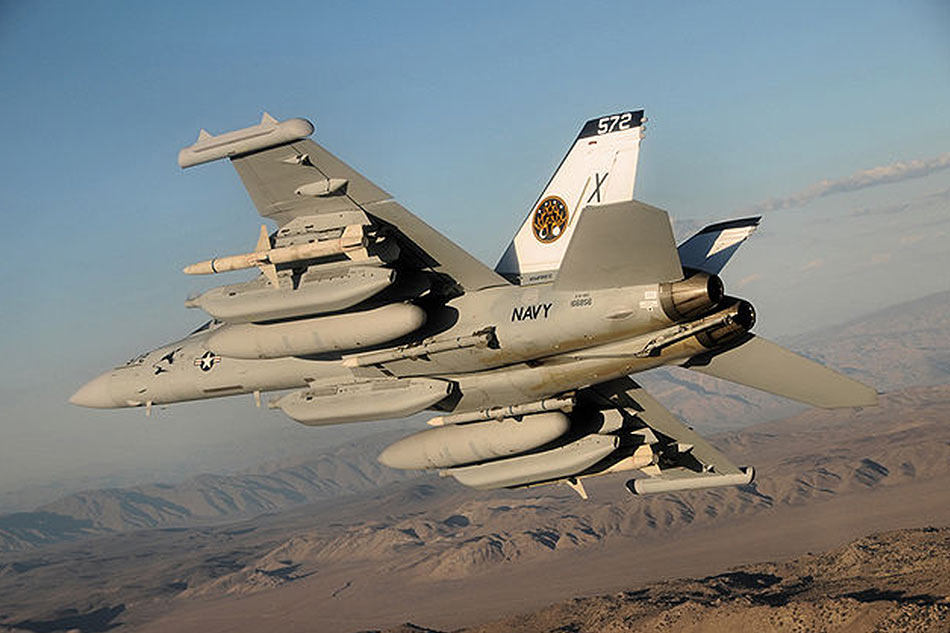 A U.S. Navy Boeing EA-18G Growler belonging to the VX-9 Vampires carrying a payload of external fuel tanks and missiles. U.S. Navy photo by Cmdr. Ian C. Anderson/File
The United States Navy 7th Fleet has announced that four EA-18G Growler aircraft and 120 personnel arrived Wednesday at Clark Air Base, to fulfill a two-fold mission of joint training with Philippine Air Force pilots of the FA-50 fighter jets, and to help in maritime domain awareness operations in region.
The EA-18G Growler is a fighter-attack jet capable of conducting air-to-air or air-to-ground combat. It is a variant of the F/A-18F Super Hornet, but the Growler is far more than just that. Growlers are specifically designed for electronic warfare.
"The EA-18G combines the capability of the combat-proven Super Hornet with the latest AEA (airborne electronic attack) avionics suite," the U.S. Naval Air Systems Command website said.
It also lists the Growler's capabilities:
- suppression of enemy air defenses, using both reactive and preemptive jamming techniques;
- stand-off and escort jamming, or jamming either within a specific area or while moving as an escort of another aircraft or vessel;
- non-traditional electronic attack, described as "dramatically enhanced situational awareness and uninterrupted communications," enabling "a higher degree of integration with ground operations";
- self-protect and time-critical strike support, or having available self-protection measures ranging from air-to-air missiles, digital data links, and an advanced electronically scanner array (AESA).
The Philippines is hosting the temporary detachment at the former U.S. airbase of Clark, a two-hour drive north of Manila.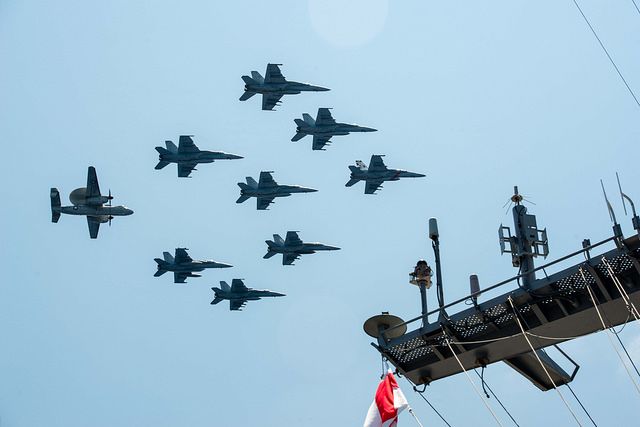 Aircraft assigned to the United States Navy 7th Fleet's Carrier Air Wing (CVW) 9 fly in formation during an air power demonstration over the USS John C. Stennis (CVN 74) somewhere over the West Philippine Sea in this April 25, 2016 file photo. U.S. Navy photo by Mass Communication Specialist 2nd Class Jonathan Jiang/handout
DISPUTED SEA
The Growlers are expected to support maritime patrols that the United States has begun conducting as a countermeasure to China's aggressive moves in the disputed West Philippine Sea.
In the past few months, the American forces have increased their visibility in the Philippines and in the disputed waters, sailing in the high seas despite China's claim that almost the entire South China Sea is its sovereign domain, with entire aircraft carrier groups and submarines making port of calls in the Philippines.
Military affairs analysts have said that these ports of call -- while on the surface are just temporary rest and recreation periods for the troops and a chance for the assets to refuel -- are actually meant to showcase a visiting nation's available military power in a particular area.
That entire aircraft carrier battle groups and submarines have been making ports of call to the Philippines have been interpreted as the U.S. letting its allies and adversaries know that these symbols of American military muscle are in need here.
China has reclaimed seven reefs in the disputed sea, with the massive island reclamation projects fitted with airstrips, helipads, and ports. The reclaimed areas also have radars, a feature that could be affected should the EA-18G Growlers operate in the disputed area and make use of their jamming systems.
READ: China to hold more military drills in disputed sea
The U.S. Embassy in Manila, in a press statement, said the contingent will train the Philippine Air Force's FA-50 pilots and support units for territorial defense operations (TDO), "specifically on maritime security operations."
It added that the training will expose Filipino pilots to "command, control, communications, computers, intelligence, surveillance, and reconnaissance."
According to the U.S. 7th Fleet, the Growlers are assigned to the VAQ-138 electronic attack squadron based at Naval Air Station Whidbey Island, Washington. The deployment is part of a contingent established by the U.S. Pacific command in April, with the approval of Washington and Manila.
Prior to the Growlers, five A-10C Thunderbolt aircraft, HH-60G Pave Hawk helicopters, and around 200 personnel were also deployed, but pulled out on April 28, 2016.
Categories: News, Nation, World