JUST IN: Albert Pagara only needed two minutes to defend his WBO Intercontinental super bantamweight title by knocking out Ghana's George Krampah in the co-main event of Pinoy Pride 45: Quest For Greatness at the IEC Convention Center. Pagara landed a solid uppercut to the abdomen followed by a two-punch combo that sent Krampah down to the canvas. Krampah failed to beat the referee's count | Reggie Vistal
Published June 20, 2016 10:40am
Updated June 20, 2016 11:30am
OAKLAND, Calif. - LeBron James powered the Cleveland Cavaliers to a 93-89 victory over the Golden State Warriors on Sunday in an electrifying Game Seven to complete an improbable comeback unlike any seen before and capture their first NBA championship.
With the victory over the top-seeded Warriors, who beat Cleveland in ...
Read Full Post »
HOWIE SEVERINO·WEDNESDAY, JUNE 15, 2016
The greatest is dead. And so is that forever signifier of innocence, mine and perhaps our country's too.
Muhammad Ali came to Manila in 1975 ostensibly to fight his ferocious archrival, Joe Frazier. I learned much later that he also came for a more sinister reason.
I was in the throes of high school a short jeepney ride away from the fight venue, Araneta Coliseum. I remember nearly all ...
Read Full Post »
By: Reggie R. Vistal
Boxing icon Muhammad Ali died on Friday (Saturday in Manila), a family spokesman said in a statement.
"After a 32-year battle with Parkinson's disease, Muhammad Ali has passed away at the age of 74," spokesman Bob Gunnell said.
Ali, whose fame transcended sport during a remarkable heavyweight boxing career that spanned three decades, had been hospitalized in the Phoenix, Arizona, area with a respiratory ail...
Read Full Post »
By: Reggie R. Vistal

CEBU, Philippines - The Latino boxers will face against wa'y pidleng the ALA Boxing Gym in the highly anticipated "Pinoy Pride 35: Stars of the Future" fight card is scheduled to meet today in Cebu.
Yesner 'Cuajadita' Talavera in Nicaragua and Eduardo 'Fierita' Montoya and Tony Rodriquez in Mexico is expected to arrive at the Mactan Cebu International Airport at 12: 45 ...
Read Full Post »
It took two years, but Manny Pacquiao can finally say he has defeated Timothy Bradley Jr.

The Sarangani congressman, who lost the first time the two met in a controversial split decision, took down the previously-undefeated American by unanimous decision, 118-110, 116-112, 116-112, Saturday (Sunday, PHL time), in their WBO welterweight title bout held at the MGM Grand Garden Arena, also the site of their first bout.


Read Full Post »
Among the youngest competitors competing against the best in the world, Filipino Olympian Michael Martinez ended his run in the 2014 Sochi Winter Olympics by finishing 19th, with a final score of 184.25 points, Friday at the Iceberg Skating Palace.

His youth, exuberance and underdog status as the first Southeast Asian Olympic figure skater made him nearly as much a subject of media attention in Sochi as the eventual gold medalist, Japan's Yuzuru Hanyu.
Read Full Post »
Two days after his dramatic boxing comeback in Macau, Manny Pacquiao faced a more formidable opponent at home, after his bank accounts were reportedly frozen in relation to a P2.2-billion tax case.
Saying that even thieves are better treated by the government, the boxing champion said that he will have to borrow money to help Yolanda victims. Pacquiao is expected to visit Leyte this week.
"Inihabla po ako ng BIR (Bureau of Internal Revenue) ng P2.2-billio...
Read Full Post »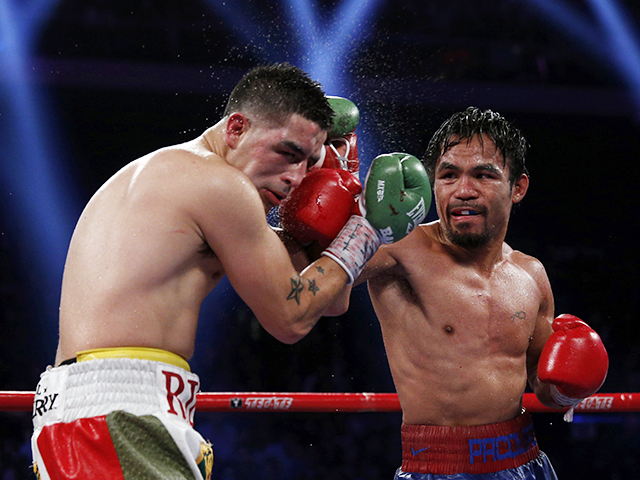 He's back.
In what could have been his swansong in boxing, Manny Pacquiao proved he still packs a mean punch, registering a unanimous decision victory against American Brandon Rios, Sunday at The Venetian Macau, claiming the WBO International Welterweight belt in the process.
Among the three judges, Michael Pernick scored it 120-108, while Lisa Giampa had it at 119-1...
Read Full Post »